Rubber Compression Molding
Source International – Rubber Compression Molding
Rubber Products From Source International
Rubber Compression Molding is the most commonly used process to produce flexible, durable rubber product. Source has been producing rubber products for industries of automotive, machinery, commercial equipment, construction and consumer products.
Nitrile (NBR), Neoprene (CR), EPDM, SBR, Silicone and Viton are commonly used at our factories. Each type of rubber has its own advantages and disadvantages, Source engineering team helps our customer to select and specify the most suitable material for their use, by carefully evaluating the requirements of strength, weathering resistance, Oil/Grease/Fuel Resistance, application temperature, and of course the economy of the material.
The Rubber Molding Process begins with placing a piece of uncured rubber (which has been preformed to a controlled weight and shape) into a mold cavity. The mold is later closed and the material is held in the mold under high pressure and elevated temperature to activate the cure system in the rubber compound (vulcanization). At the end of the cycle, the parts are removed or ejected from the cavities. Additional trimming is typically required.
Our ISO 9001 certified facilities focus on the most advanced, state-of-art rubber compression molding equipment giving us the capability to deliver a diverse set of parts for a wide range of industries, including agriculture, automotive, industrial machines, HVAC, and many others.
Starting with your AutoCAD, IGES, PDF, or SolidWorks file, our expert team produces your custom parts with tight tolerances and that always meet your specifications.  Regardless of the complexity of your design, we'll find the best way to meet your needs in a timely, cost-effective manner.
For a good overview of the Rubber Compression Molding process click here.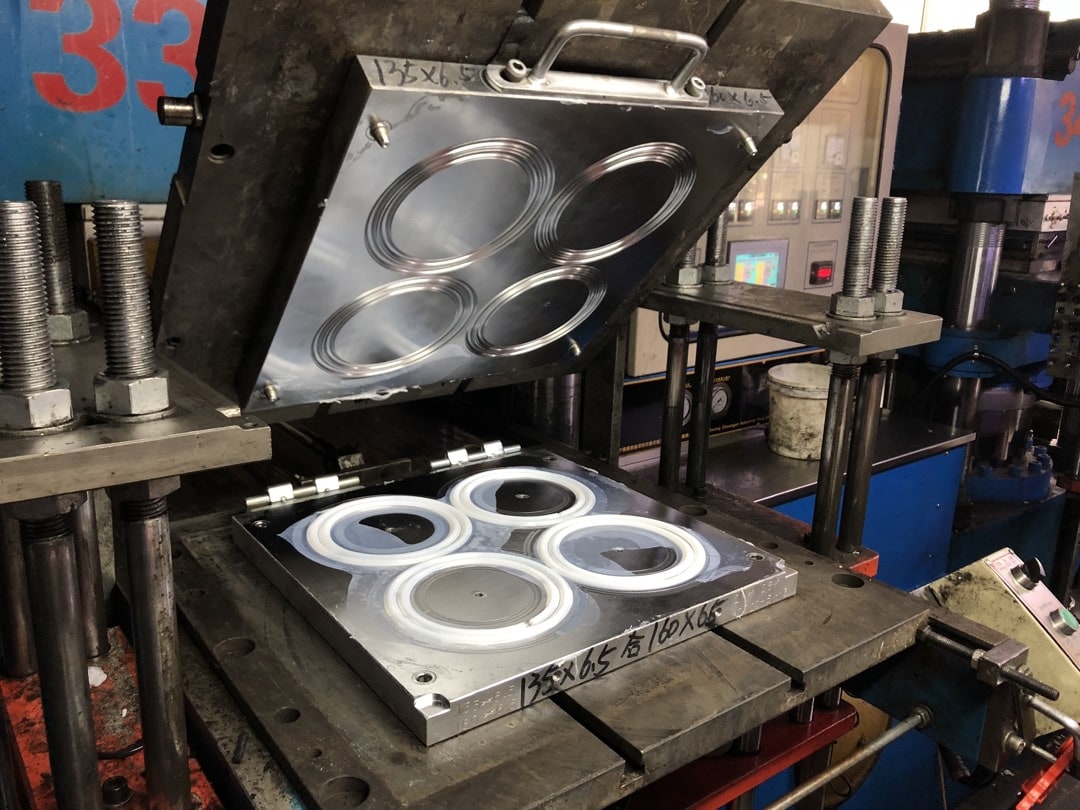 Rubber Compression Molded O-Rings
Rubber Compression Molded Hose
Precision Rubber Compression Molding Product Applications

Source International offers a wide range of precision rubber compression molding product design, die-making, extrusion, finishing, and packaging and delivers on-time, on-spec, every time.  Our high-performance systems are engineered for eco-friendly, low energy consumption with super-accurate repeatability within extremely tight tolerances. Contact our team today to check your precision part specifications against our capabilities.
Rubber Compression Molding Press
Rubber Compression Molding Press
Rubber Molding Process Considerations
Engineering Design
Cost Effective Custom Molding vs stock parts
Avoiding Rubber Component Design Problems.
Production Parameter in Balance.
Selecting an Elastomeric Material.
Elastomer Hardness Selection.
Compression molding was developed to manufacture composite parts for metal replacement applications. Rubber compression molding is typically used to make larger flat or moderately curved parts used in manufacturing automotive parts as well as smaller parts for sealing and sound insuating. The material to be molded is positioned in the mold cavity to conformed to the mold form by the applied pressure and heated until the curing reaction occurs. The mold is then cooled and the part removed.
Rubber Compression Molded Hose
Rubber Compression Molded Seals
SOURCE INTERNATIONAL OPTIMIZES SUPPLY CHAINS
Whatever your procurement needs may be, Source International provides commodity and supply management expertise to allow you the most globally competitive prices combined with the best quality (always on-spec) and an on-time delivery record unmatched in the industry.
Send us an email to find out how we can add value to your global supply chain to save you time and money while increasing overall efficiency and product quality.